EP103: How The Spotify "Algorithm" Actually Works
,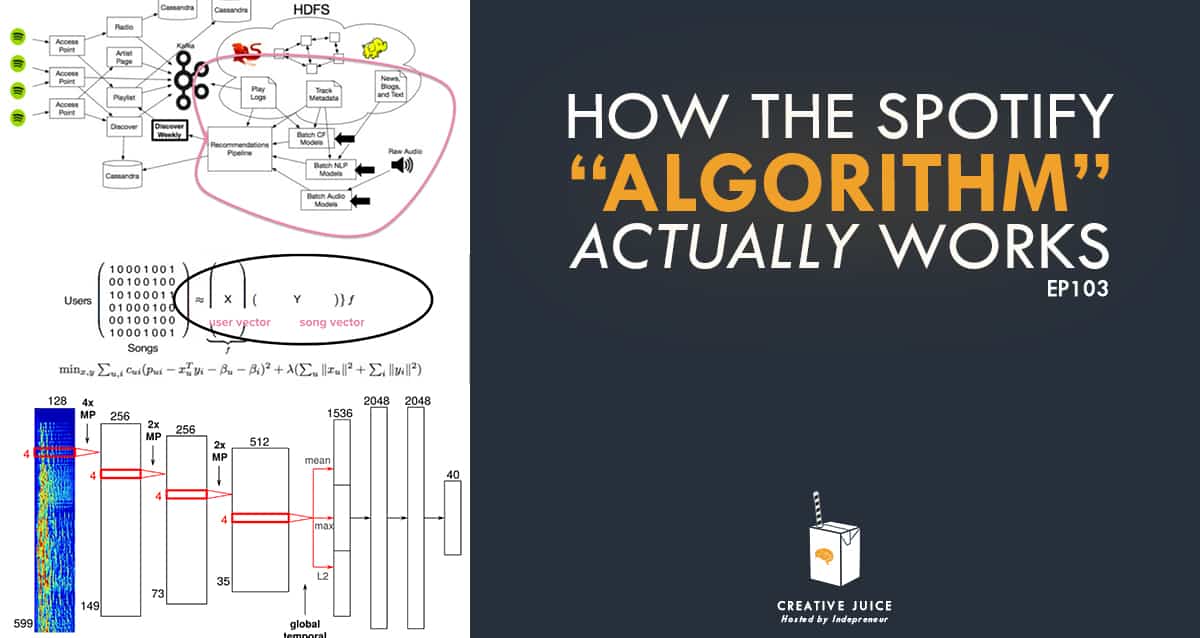 "The Spotify Algorithm". "Game the algorithm". "See, here's how the algorithm works…" Let's be honest – when it comes to any algorithm (including Spotify's Recommendation Engine), most people don't know what the f*** they're talking about. Still, people line up to pontificate about the inner workings of "the algorithm"…In this episode Circa and Corrin discuss the work of Spotify's machine learning engineers in creating the Spotify Recommendation Engine. You'll learn how it ACTUALLY works. You will be able to dispel countless mythical book chapters and tutorial videos floating out there on the internet, learn how the Spotify "Algorithm" works, and what it means for YOUR music career. So, if everyone in your music scene can't stop themselves from morphing into armchair data scientists, you're going to want to listen closely to this one!
​End ​The Confusion About What Works On Spotify
​access our spotify field guide training
DISCOVER:
How Spotify's Recommendation Engine uses its 3 recommendation models
Why every song, user, and artist in Spotify's library has a "location" (and why it matters)
What Spotify can learn from 50+ million songs streamed by 220+ million users
How Spotify uses data from Music blogs and websites to make recommendations
Why what your song sounds like can impact Release Radar (in a big way)
When saves matter and why pre-saves may not matter so much
PLUS: What activites can get you recommended more often
RESOURCES:
Galvanize Conference 2017 – Machine Learning for Music Discovery
DataEngConf NYC17 – How Spotify Makes Music Recommendations
Nordic ML Summit 2018 – Music Recommendations At Spotify
@Scale 2016 – Creating and Scaling Spotify's Discover Weekly Playlist
IN-DEPTH ARTICLE: How Does Spotify Know You So Well?
The Spotify for Developer's API Console
What is a neural network? Video Series
Khan Academy – Matrix Math (FREE COURSE)