7 Business Emails To Send To Your Fans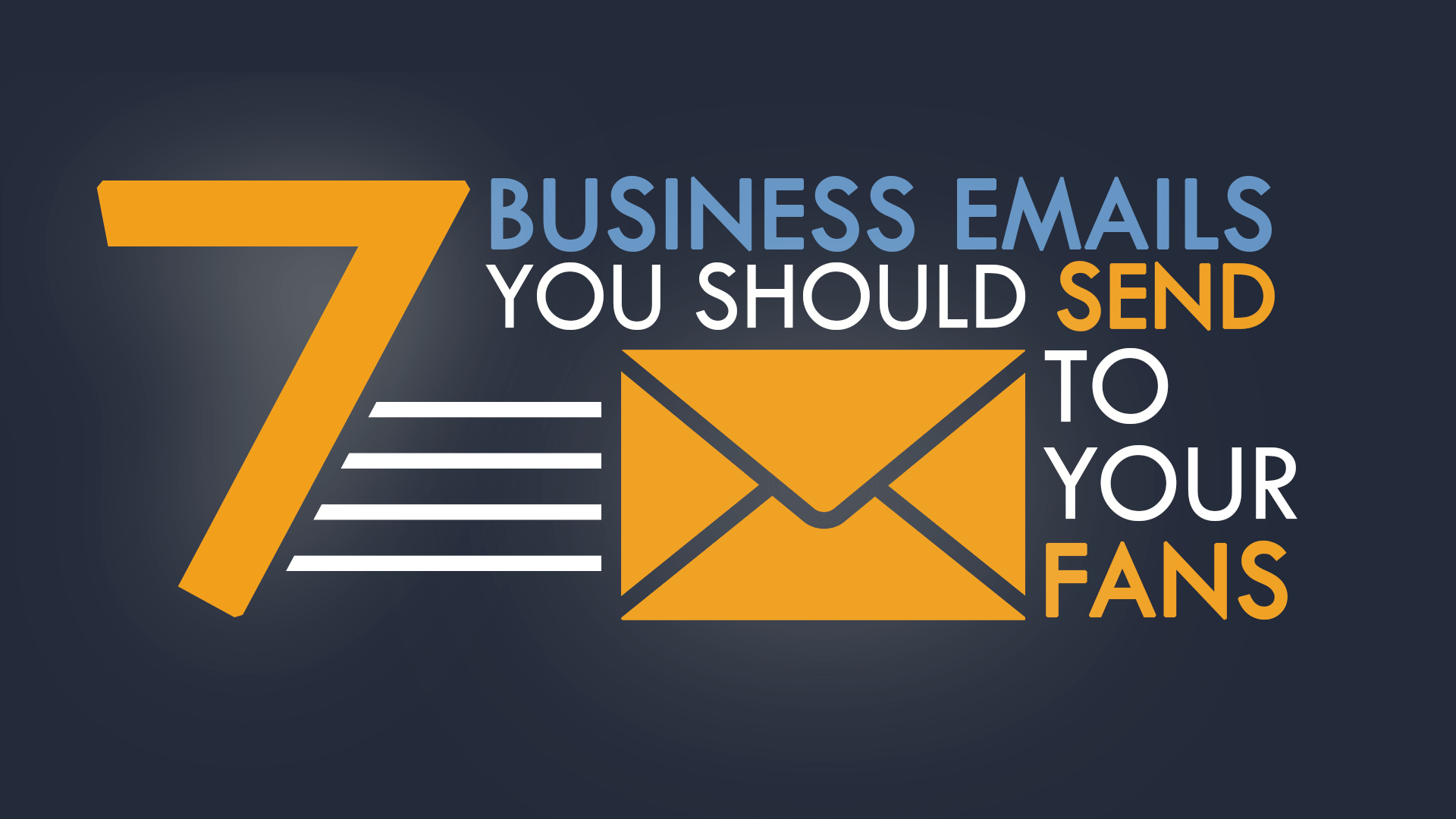 Quickly and easily deploy time-tested marketing campaigns with Indepreneur's INDIEPRO training library. Become an INDIEPRO member and learn how Indepreneur can help you break out of your current music scene, build a trackable fan base, and sell music and merchandise. Learn more now!
Are you sitting on an email list or building a list of fans that are waiting to hear from you?
Wondering how businesses utilize email marketing to turn email subscribers into customers?
Believe it or not, email marketing is the marketing channel with the highest ROI for businesses of all kinds!
As the Lead technician for Indepreneur's IndieX agency, I send tens of thousands of emails every month on behalf of our clients (and that's just the artists I oversee directly). So, I'm relied on to know how to craft, optimize, and automate the email campaigns and automation sequences that bring our clients success (and, most importantly, sales).
Not too long ago, I knew absolutely nothing when it came to email marketing. But, by studying real online businesses that do this stuff every day, I've actually gotten pretty good at it.
Musicians have the unique advantage of creativity when it comes to email marketing, but few use it to the full potential.
To help you get inspired, read on for 7 emails used by businesses that you can adapt and use to engage with your fans via email!
Welcome Emails
Whether you're collecting email opt-ins via a form on your website, at your merch table, or through a more dedicated permission campaign like the Ultimate Album Launch funnel, exchanging contact information is an important step in bringing fans deeper into your world.
The last thing you would want to do is let new people on your list immediately forget about the fact that they just subscribed in the first place!
Enter: The Welcome Email.
Right after subscribing to your list, a person is likely very excited and endeared to your brand. In fact, welcome emails are four times more likely to be opened than other emails.
Businesses use welcome emails for indoctrination.
Indoctrination is simply the process of letting a new subscriber know what to expect from your emails and how to get the greatest benefit from this line of communication with you.
Welcome emails start with an eye catching subject line and a personage message welcoming them into your world.
Next, the email includes a statement of benefits so that the people on your list know what value they'll get from you, the next steps to take (such as whitelisting your email address), and ends an open loop, such as a teaser for the next email.

Like any other business, sending welcome emails to fans as they join your email list allows you to intentionally start the process of building your relationship with them.
No musician in their right mind should shy away from that concept!
Sales, Promotions, and Beyond
Businesses and big brands find reasons all around the calendar to promote sales and discounts, from actual holidays to made up holidays!
One of the biggest reasons for building up an email list is that once someone has shared their contact information with you, it no longer costs you money to reach out to them (as it would with paid advertising).
Businesses in all industries rely on offer email campaigns for discounts and flash sales to increase their revenue.
For example, in this article Klaviyo lays out the backbone of flash sale emails as a way to drive customer engagement and traffic using a short sale window with dedicated products, specific discounts, and scarcity.
Product Launch
If you're further along in your list building endeavors and you've been nurturing your subscribers with emails that are jam packed full of value, product launch emails might take your future release or tour to the next level.
From Apple and Swiss to Starbucks and Dr. Martens, Chamaileon covers some heavy hitting product launch email campaigns that should inspire you on ways to email your list about your next release.
Product launch emails can come in many forms such as pre-orders, events and livestreams, new features, future sales, and beyond.
The sequencing of product launch emails can vary as well.
One example sequence might include a teaser email a few weeks before the launch, an announcement or pre-order email a week out, an email or two on the actual launch day, and a follow-up email that highlights testimonials and reactions from excited customers.
Regardless of the meat and potatoes of the product launch emails you sent, the goal is to get your warmed up list of fans excited about something new going on in your world, whether that's a new record, a tour, or a merch line.
Stuffing those emails full of value will further endear them to you and prime them to be ready to take you up on whatever offer you decide to create around your launch!
Survey Emails
Want to really get inside the minds of your fans?
Survey emails are a great way to do real life customer research on your fan base.
Not only do survey emails help you gather valuable data on your fans, but they give you yet another reason to communicate with your audience!
You'll see businesses use these types of survey emails in a variety of ways including product satisfaction surveys, customer service feedback, and market research surveys.
As a musician, you have a unique creative advantage to the types of survey emails you could send out to your fans.
Want to plan your next tour routing based on actual, measurable data? Sending a survey to your list could help you find your hot markets so that you don't have to hustle as hard to pack a room.
Want to craft the perfect setlist that will get people singing along? Ask your fans which songs that they'd like to hear at your upcoming show!
MarketingLand offers a few sound tips on how to send successful survey emails reminding you not to waste your fans' time, get creative in your subject lines (this one should be a no brainer for musicians!), and don't be afraid to offer an incentive to thank your audience for taking the time to help you out!
Sending out surveys to your email list not only helps you as you grow in your music career, but also will let your fans know that you care about their opinions and want them to have a voice.
Thank You Emails
In a culture of instant gratification and gluttonous individualism, the world could use a bit more manners!
Preaching aside, when was the last time that you sent a thank you email to your fans that was beyond the scope of the stock order confirmation set up in Bandcamp?
Thank you emails present a huge opportunity for businesses to increase customer engagement and even sales, as the open rates and click rates tend to be higher than those of other promotional emails.
Businesses use these types of emails to remarket to their customers in ways that increase product visibility and cultivate repeat sales.
By including thank you offers such as coupons or special sales, a new customer will be more likely to return to your store for a follow up purchase.
Personal product recommendations and rewards programs are yet another way to add extra flavor to your thank you email campaigns and show more value to your customers.
Statistics show that on average 10% of purchasers will return to make a follow up purchase, if they are given an incentive via email!
That's a pretty huge opportunity and a reason to say "thank you"!
Unsubscribe Sequences
No one likes a stale email list.
If you see your open rates and click through rates declining as you send emails over time, you might be wondering what to do next.
List hygiene is an important concept for any business that relies on email marketing to reach its customers.
To help facilitate a healthy list full of engaged subscribers, many businesses will actually send emails politely asking people on their lists to unsubscribe!
Simply asking readers if they want to continue receiving your emails, asking them if they enjoy your content, and reminding them of the option to unsubscribe are a few steps that you can take in an unsubscribe sequence.
While it may seem counterintuitive, your email marketing should focus on providing value to your fans and creating an ROI for you and asking users who don't see the value to unsubscribe will benefit you in the long run!
Cart Abandonment Emails
If you've got a thriving online store that your fans are regularly visiting, you'd be remiss to not plan out some cart abandonment emails into your email marketing strategy.
Believe it or not, over 67% of online shopping carts are abandoned before customers actually make a purchase!
If you step back and think about that staggering number, you may realize how many sales you're potentially losing.
With that in mind, you can see how cart abandonment emails help pick some low-hanging fruit in your revenue streams.
The premise of these emails is simple and businesses use them all the time!
When a potential customer abandons the shopping cart, they'll receive an email reminding them of what they've left behind and linking them to complete the order.
The copy of abandon cart emails should be on-point with your brand, as there is plenty of room to get creative.
You can even spice up your cart abandonment emails with a discount or special offer to further entice your long lost purchaser to pick up the goods!
You've Got Mail!
These 7 examples of business emails are just the tip of the iceberg to kickstart the creative ways that you can keep in touch with your fans and actually grow your music career!
Take stock of your processes when you think about how you've engaged with your email list. Which of these business emails could you work into your email marketing?
Want to take a deeper dive into email marketing for independent artists and bands?
Our comprehensive training library covers go-to steps, sequence templates, and best practices for growing an engaged list of fans that will be eager to hear from you!